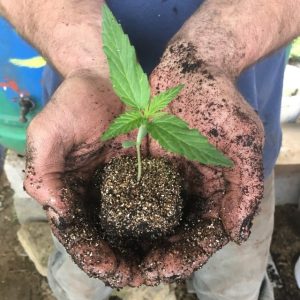 Ben James and Andy Loughney first met while playing music together at an improvisational jam session in Brattleboro, Vermont. This chance encounter, fueled by sounds and exploration, has been recognized as the genesis of Bravo Botanicals, their company that is dedicated to bringing premium and affordable Certified Organic Cannabidiol (CBD) products to the marketplace.
"Our approach has been to let the cannabis plant be our guiding force, much like those moments where the music leads the players," explains Andy. "It's such a tremendous plant that has so much to offer. We maintain a perspective of service to the hemp and know that conscious cultivation will inform our roles as farmers and producers and small business owners.
From there, Andy and Ben bring the oil back to their office and production space in Guilford, VT, where they transfer the oil into smaller bottles for retail sales and also craft a few simple products with only a few ingredients. "There's a quote attributed to Einstein that we love and often look to for guidance – 'Everything should be made as simple as possible, but not simpler.' So, we let the plant do what it does best and we just add a few things to support some different avenues of getting CBD into the users' body," Andy discloses.
The end result is a line of straightforward products, though Andy reveals a slightly different perspective. "I like to say that our CBD offerings are more of a 'service' and less a 'product,' which feels more concrete and final. There is an interaction between the user and the plants each time our CBD is absorbed into the body. When you take CBD, you are plugging those molecules into your own endocannabinoid system, where receptors are eagerly waiting to receive them," he points out. "Once in your body, the CBD responds to whatever might be going on in your nervous or immune system and is able to adapt and provide instructions to your other neurotransmitters. There is a strong indication that humans evolved with the cannabis plant. CBD provides an opportunity to reimagine that relationship without the psychoactivity of THC."
Bravo Botanicals Products Endorsed by Peak Prosperity